THE HOLY BIBLE (NASB - 2 TIMOTHY 3:16-17)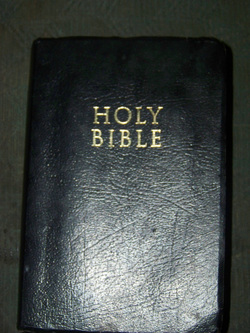 This reader is the greatest book ever known to man. It is the triune God's (Father, Son and Holy Spirit - Matt.28:19) divine revelation of themselves to every generation. Understand that when you begin to read these texts of scripture you are listening to the voice of the Spirit of God in every word of every text through the scribes who penned the book or letter in which you have chosen to read. Thus, when reading the bible one must read it with an open mind to know the scope of biblical human history, God's vision for the nations, Israel and the church. His divine defense before humanity in regards to his authority, incarnation, return and revelation. Thus, read it to know Him, and to be reconciled to Him and to restore Him as the only God of your life. For these Scriptures, from Genesis to Revelations are God's inspiration, and they are profitable for godly living in this generation by his grace and our faith in Him. It is for this reason that Paul says to Timothy the pastor of the Ephesians church in his second epistle to him in 2 Timothy 3:16-17, "All Scripture is inspired by God and profitable for teaching, for reproof, for correction, for training in righteousness; that the man of God may be adequate, equipped for every good work." These precious words of truths, apply to all who are of the faith of Paul and Timothy in our church age. We like Timothy must remember that all Scripture is God breathed and even as Peter echoed "No prophecy of scripture is a matter of one's own interpretation, for no prophecy was ever made by an act of human will, but men moved by the Holy Spirit spoke from God." (2 Pet.1:20-21). Scripture is from the Father, through the Spirit, through the prophets, and apostles to the church, to us.

I personally have been blessed by my own time of learning and teaching the bible. I read it, study it, practice it, write about it, and teach it because I believe it. There's no other book like it in all of human history. The bible has given me hope, and a clear direction of what God wants from my life daily. Anyone can read and benefit from the bible if they only take the time to read it and believe it is God's Word to man in every generation. Below I have listed a few books that can be purchased to do bible study for those interested. In the proceeding paragraph are ten points on how bible study can be done. Perhaps someone can use this process to understand God's Word and its meaning in their lives.

October 2014

If the bible is a record of God's voice, God's spoken word, God's view of creation, salvation, this life and eternal life, why then is not the entire globe and all humanity reading it, studying it, practicing it and teaching it to others?

November 2014

Are we still living in the context of biblical Christianity Church?

July 2015

What if the bible is a lie?

September 2015
Can the bible really save you?

---
TOOLS TO STUDY THE BIBLE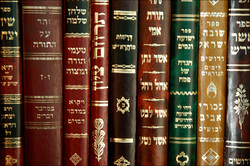 To begin studying the bible, you will need these ten books.

1. A New American Standard Bible (NASB)
2. A Webster's New Collegiate Dictionary
3. A Zondervan Illustrated Bible Dictionary.
4. The New Manners and Customs of Bible Times.
5. The Vines Complete Expository Dictionary of O.T. and N.T. Words.
6. A Strongest Concordance.
7. A Compact Bible Commentary
8. A Greek and Hebrew Lexicon.
9. A Calvin or Matthew Henry Commentary set of the whole Bible, and
10. An NIV Study Bible for cross referencing.

---
STEPS TO PERSONAL BIBLE STUDY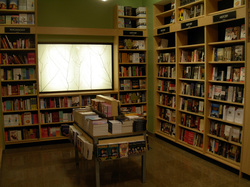 It is great if you have a library full of Christian books in which you can read. The bible encourages the church that it ought to be studied, both in the Old Testament (Joshua 1:8) and the New Testament (2 Tim.2:15). God expects his children to study his inspired Word (2 Tim. 3:16-17).

Personal bible study always includes:
1. Prayer (Phil. 4:6-7)
2. Choosing a Biblical text to study (perhaps Genesis 1-3).
3. Reading Genesis 1-3 several times, until you understand what the author is saying.
4. Taking notes on each of the chapters, perhaps the name of a river, the location of the garden of Eden in the Middle East? The animals or people mentioned in the garden, or even the events which took place in the garden.
5. Using a Bible Commentary or a Study Bible you can find out the background information on the book, such as the dates when it was written, the author of the text, and the reason why the text was produced.
6. Summarize each chapter of Genesis 1-3 in your own words, based on what you understand the author is saying in the book.
7. Define Words that may be difficult to understand in Genesis 1-3 by using the Webster's Dictionary or the Vine's Expository Dictionary which will give you the meaning of Hebrew and Greek words.
8. Define what kind of literature Genesis 1-3 is, whether it is a historical book, dialogue, poetic, prophecy, a Psalm or a letter (epistle).
9. Identify who is speaking to whom in the text and what they are communicating. If it is a command (Gen.2:17), a confrontation and judgment (Gen.3:8-21), or a record and account of events (Gen.1:1-3:7).
10. Remember that Scripture is God's spoken word to man (2 Tim.3:16-17), and thus God is commanding man through Scripture on how they are to live. Thus, find the commands of God in the text that can be used as points of application in the lives of those who had received the original text and now how you are receiving this ancient text as God's command in your own life.

Hopefully, these ten points will help you get started on studying the Bible. Be sure to read the commentaries that have already interpreted the text that you chose to study. For as you follow these steps you are taking the scriptures through a process which in the end will help you come to have a greater understanding and interpretation of the text.

---
DUCLAIRON'S TEACHING ON ONE'S NEED FROM THE BIBLE - 1/24/12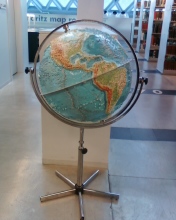 Most Americans read the bible for spiritual nourishment, I thought it would be helpful along with the tools and the steps of knowing how to study the bible to also perhaps inform you of other things you may need from the Bible, such as:
1. LANGUAGE - The original texts were written in Greek, Hebrew and Aramaic.

2. HISTORY - The bible covers at least 6000 years of history from Genesis to the first century not
counting the future book of Revelations.

3. THEOLOGY - The various studies of the attributes and knowledge of God.

4. DOCTRINE - The various teachings of the prophets, Messiah, and apostles of the N.T. Church.

5. LESSONS - The teachings of Proverbs, Psalms and the Beatitudes, including examples taken from peoples lives.

6. TEACHINGS - Mosaic Law, Prophetic writings, Messianic parables and apostolic doctrines.

7. ENCOURAGEMENT - Various scriptures can be used to build up others in the faith.

8. KNOWLEDGE - Knowing the names of the bible books, the authors, the setting, the text itself.

9. SPIRITUAL ENCOURAGEMENT - Understanding the role of the Holy Spirit as comforter to those in the church.

10. MINISTRY - Service ordered by God for the church to perform or to do.

11. TRAINING - Scripture prepares and instructs men in the way of doing the work of salvation, shepherding, pastoral care, overseer and church service.

12. INTERPRETATION - Each verse of Scripture must be properly interpreted for understanding, learning and teaching others, both young and old.

13. CORRECTION - Scripture is also used to discipline sinners, instruct students properly, confront sin, correct error in doctrine and faith.

14. EQUIPPED - Scripture is to be used to prepare and bestow spiritual tools on others to live the christian life or to lead the christian church.

PLEASE WATCH THE VIDEO BELOW.


---
DUCLAIRON'S READING OF SAINT PAUL'S 13 EPISTLES - ROMANS - PHILEMON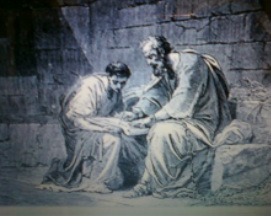 THE APOSTLE PAUL WRITING LETTERS
3 VIDEOs 4:43:35 min.

VIDEO 1 - 2:04:32 min.
1. ROMANS 1:1-16:27
2. 1ST CORINTHIANS 1:1-16:24

VIDEO 2 - 1:03:25 min.
3. 2ND CORINTHIANS 1:1-13:14
4. GALATIANS 1:1-6:18

VIDEO 3 - 1:35:38 min.
5. EPHESIANS 1:1-6:24
6. PHILIPPIANS 1:1-4:23
7. COLOSSIANS 1:1-4:18
8. 1ST THESSALONIANS 1:1-5:28
9. 2ND THESSALONIANS 1:1-3:18
10. 1ST TIMOTHY 1:1-6-21
11. 2ND TIMOTHY 1:1-4:22
12. TITUS 1:1-3:15
13. PHILEMON 1:1-25

---
DUCLAIRON READING OF THE NEW TESTAMENT BOOK OF ACTS BY LUKE - ACTS 1-28

1. ACTS 1-12 THE APOSTLE PETER'S PREACHING AND MINISTRY
2. ACTS 13-28 THE APOSTLE PAUL'S MISSIONS AND MINISTRY

MAN'S PROBLEM WITH THE BIBLE (JEREMIAH 36:1-8, 20-24)

1 "In the fourth year of Jehoiakim the son of Josiah, king of Judah, this word came to Jeremiah from the LORD, saying, 2 "Take a scroll and write on it all the words which I have spoken to you concerning Israel and concerning Judah, and concerning all the nations, from the day I first spoke to you, from the days of Josiah, even to this day. 3 Perhaps the house of Judah will hear all the calamity which I plan to bring on them, in order that every man will turn from his evil way; then I will forgive their iniquity and their sin." 4 Then Jeremiah called Baruch the son of Neriah, and Baruch wrote on a scroll at the dictation of Jeremiah all the words of the LORD which He had spoken to him. 5 Jeremiah commanded Baruch, saying, "I am restricted; I cannot go into the house of the LORD. 6 So you go and read from the scroll which you have written at my dictation the words of the LORD to the people in the LORD'S house on a fast day. And also you shall read them to all the people of Judah who come from their cities. 7 Perhaps their supplication will come before the LORD, and everyone will turn from his evil way, for great is the anger and the wrath that the LORD has pronounced against this people." 8 Baruch the son of Neriah did according to all that Jeremiah the prophet commanded him, reading from the book the words of the LORD in the LORD'S house…"

20 "So they went to the king in the court, but they had deposited the scroll in the chamber of Elishama the scribe, and they reported all the words to the king. 21 Then the king sent Jehudi to get the scroll, and he took it out of the chamber of Elishama the scribe. And Jehudi read it to the king as well as to all the officials who stood beside the king. 22 Now the king was sitting in the winter house in the ninth month, with a fire burning in the brazier before him. 23 When Jehudi had read three or four columns, the king cut it with a scribe's knife and threw it into the fire that was in the brazier, until all the scroll was consumed in the fire that was in the brazier. 24 Yet the king and all his servants who heard all these words were not afraid, nor did they rend their garments. 25 Even though Elnathan and Delaiah and Gemariah pleaded with the king not to burn the scroll, he would not listen to them. 26 And the king commanded Jerahmeel the king's son, Seraiah the son of Azriel, and Shelemiah the son of Abdeel to seize Baruch the scribe and Jeremiah the prophet, but the LORD hid them.."
According to Jeremiah 36:1-8, 20-24 God called Jeremiah to write his instructions in a scroll, while Jeremiah dictated to Baruch word for word the words of the Lord. Baruch then entered the house of the Lord and read the scroll to the people. When the scroll was read to king Jehoiakim he cut it and burned it. The kings response was no different than that of the everyday American against the Word of God. The problem and issues of man are in the bible. The bible covers all the issues of this life, but man does not want the bible, nor do they want their God. Just like the king did not want the Lord nor his word written on the scroll. What man wants is sin. Sexual sin, immoral sin, social sin, sin of the heart, sin of violence, sin that denounces God's divine position in their lives. Man has rejected the bible, both in the world and in the church. Man do not seek to live out the biblical instructions of the scriptures. They do not honor the Hebrew Scriptures as the authority of their lives. They despise the Word and refuse to obey it. Even as leaders in the church, you will find men and women who will not give a minutes thought to God and his Word in dealing with life, social or personal issues. Because they do not believe that the Word is from God, that the Word can do what it testified to be able to do. Thus, man (saint and sinner) will perhaps own a bible, read certain parts of the bible. But to continue the apostolic faith and live out the bible (i.e. scriptures), this they will not do.

They prefer to live the American life, rather than the Christian life by faith. What does it really mean to live by faith? And what exactly do we consider the American Life? what does it consist of? In Genesis 1 God commanded man to be fruitful, multiply and cultivate the earth. Man has done these things. Yet, with the establishment of Christianity in the 1st Century God has added the preaching of the gospel, the gathering of the saints and a life of communion in prayer to simplify what the responsibilities of saved man are along with the 3 commands from Genesis 1. Yet, without the bible being the chief and most important part of the faith the message will not be preached, the saints will refuse or not gather and God will hear nothing from man on the earth. It is the Spirit who uses the bible to charge saved man to preach, to draw near to others of like minded faith to gather as a family under Christ. The bible (scripture) reminds us of the Father and the Son and the Spirit. Thus, we are to speak to them by faith.

The world has a foot into every Christian home and as a community has discouraged all saints from trusting in the bibles account for their daily lives. the communities of the world, frown on biblical thinking, biblical living, biblical reasoning, the biblical position on the issues of our christian lives. The bible is a dead book to them that are in the world and God has not or is not speaking to man through the bible. Therefore, there is no need to read scripture, believe it, and apply it to our lives. Though we may make an effort to apply certain texts to certain situations yet it does not mean that the worlds position on the issues will change. We may preach the bible from cover to cover, but the world will not budge on it's position against the bible and its teachings. The church may meet on Sundays for regular worship, but during the week, they are vulnerable to the world and their positions in the lives of the saints. It is during these ungodly encounters during the week that the church ought to take a stand on it's biblical belief, but instead they yield to the world and remain silent about what they claim to believe. Thus, there is no one to defend the biblical faith, the biblical teaching of Scripture. Then it is up to those who make their living at preaching the gospel to defend the biblical faith. But defending the biblical faith does not mean that the world will believe them or accept them and their message of salvation or defense of the bible.

If God is truly speaking to all humanity in these 66 texts of scripture, then he is not silent. Much like the U.S. government speaking to the American people through the constitutional law. But it is not a daily practice of Americans to read or acknowledge the law, only in needed circumstances do they make reference to the law. Perhaps this is what has happened with the Christian church. The bible has become a book of reference rather than a book that is read daily for application. Joshua 1:8 and Acts 2:42 makes it obvious that in both testament God wants his written Word mediated on and given full and complete devotion too. Each member of the body of Christ is to study his Word and love his Word (2 Tim. 2:15; 3:16-17; Psalm 19:7-14; Psalms 119:1-176). Both the Old Testament psalmist and New Testament Apostles understood the position of God in his written Word. The written Word of God was a record of all that he had said and done.

All 66 books of Scripture were a testimony of who the Lord Jesus Christ was and is. He was the Old Testament "I AM" who became the Son of God or the Son of Man in the N.T. The bible is the book that summarizes what he began to speak in Genesis to man and ended with what he planned to do in the end of time in Revelations. All that takes place between Genesis and Revelations in the life that man has been given on the earth is in the bible. Thus, now let me encourage you to get a copy of the bible and to:

1) read it from cover to cover.
2) Believe it, as if it were the true historical account of humanity.
3) Apply it to your daily lives.
4) Study it,
5) Pray it back to God,
6) exercise the instructions in it,
7) teach it to other and
8) make it part of your daily life.
9) When you see the fruit and benefit of your labor in it then make it your goal to
10) pass it on to others.

Thus, this should resolve man's problem with the bible. The same way that a man falls in love with a woman to love and cherish her, so should he fall in love with his bible and cherish it, seeking the benefit in owning it as a spiritual tool for life.
DUCLAIRON'S BIBLICAL CHRISTIAN MINISTRY 2000 – 2017

1. 2000 "SPIRITUAL CONVICTIONS PERTAINING TO THE CHRISTIAN FAITH" BOOK & GUIDE
2. 2001 "LIFE'S A GIFT" MUSIC ALBUM
3. 2002: "FAITH - BOOK 1" (Page 1)
4. 2003: "BE RECONCILED TO GOD" (2 COR.5:20) SERMON AUDIO (Page 1)
5. 2004: "JOY OF CHRISTMAS" MUSIC ALBUM
6. 2005: "THE GOSPEL OF GOD" (ROM.1:1-7) SERMON AUDIO (Page 1)
7. 2006: "PROGRESSIVE REVELATION OF GOD'S PLAN OF REDEMPTION AND ATONEMENT
FOR SIN" - SERMON SERIES
8. 2007: "LET'S TALK ABOUT JESUS" - SERMON SERIES
9. 2008: "KINGS ABOVE THE EARTH" - MUSIC ALBUM
10. 2009: "CHRISTIANITY ON A SILVER PLATTER" - SERMON
11. 2010: "LET'S TALK ABOUT THE BIBLE" - PREACHING VIDEO
12. 2011: "MAN'S PROBLEM AND GOD'S CURE" - PREACHING VIDEO (Page 4)
13. 2012: "THE PERFECT GIFT" (JAMES 1:17) - PREACHING VIDEO (Page 4)
14. 2013: "MAPPING OUT YOUR 2013 JOURNEY WITH THE WORD OF GOD"
15. 2014: "A NEW CHURCH ERA AN OVERVIEW OF 2014 (VIDEO 1)" (Page 1)
16. 2015: "LET'S TALK ABOUT GOD - THE BOOK" - PREACHING VIDEO (PAGE 4)
17. 2016: "DUCLAIRON'S PREACHING IN THE GOSPEL OF MARK - SERMONS 1-24 - VIDEOS (PGE 1 & 4)
18. 2017: "DUCLAIRON'S NEW YEAR SERMON - ISA.6:9-13; MAT. 4:8-9; PHIL. 2:9-12, 3;8 - VIDEO (PG1)

DUCLAIRON'S ART MINISTRY - COPYRIGHT @ 2012, 2014 All Rights Reserved. WATCH VIDEO 1:05:13 min.

In 2010 my trailer was impounded and I lost all my art work that was in the trailer on account of the opposition that I was getting from Gabrielle Franklin and John F. MacArthur. As a result of my losing the former art work, I started doing some new art work, I do the work and use it for ministry. If you take any of the work please do not use it to discredit me the artist or the work, or don't use it at all. However, if you choose to take the work, please use it properly. If you do not understand the nature of the work you may contact me and I will be more than happy to explain the intent of the work to you. Thank you.

DUCLAIRON'S ART WORK LIST
COPYRIGHT @ 2013, 2014, 2015

1. ADAM AND EVE (PHOTO'S 1-5)
2. ALL THE WOMEN OF THE BIBLE (PHOTO 6)
3. THE CRUCIFIED CHRIST - COVER OF SPIRITUAL CONVICTIONS PERTAINING TO THE CHRISTIAN FAITH (PHOTO #7 - 4/9/12)
4. DRAWN ON WORLD'S PIZZA NAPKIN (PHOTO #8, 9 - 4/9/12)
5. JESUS AND HIS DISCIPLES (PHOTO #10, 11 - 4/9/12)
6. THE FATHER AND THE SON ON THEIR THRONE (PHOTO #12 - 4/9/12)
7. BIRTH OF JESUS CHRIST (PHOTO #13-15 - 4/9/12)
8. PERSECUTORS OF THE CHURCH (PHOTO #16 - 4/9/12)
9. THE PERSECUTED CHURCH (PHOTO #17 - 4/9/12)
10. JESUS (PHOTO #18-19 - 4/9/12)
11. CONDEMNED CHRIST (PHOTO #20 - 4/9/12)
12. JUDGMENT SEAT OF GOD AND CHRIST IN REVELATIONS 20 AND DANIEL 7 (PHOTO #21 - 4/9/12)
13. TRIBULATION, PERSECUTION AND WORLD POSITION - MATTHEW 24. IT STARTS OF THIS LEVEL AND CAN BECOME ANYTHING
(PHOTO #22-23 4/9/12)
14. FEET OF ADAM AND EVE (PHOTO #24-26 - 4/9/12)
15. HELL (PHOTO #27-32 - 4/9/12)
16. THE FAMILY (PHOTO #33-44 - 4/9/12)
17. JEREMIAH THE PROPHET SKETCHED (PHOTO #46-49 - 4/9/12)
18. DISCOLORATION DIAGRAM (PHOTO #50-51 4/9/12)
19. NORMAL, DISCOLORED, RESTORED (PHOTO #52-58 - 4/9/12)
20. THE PENALTY FOR SIN (PHOTO #59-60 - 4/9/12)
21. JEREMIAH THE PROPHET (PHOTO #61-62 - 4/9/12)
22. BOARD SKETCH OF THE CRUCIFIXION (PHOTO #63 - 4/9/12)
23. JESUS PREACHING (PHOTO #64-68 - 4/9/12)
24. MODERN WOMEN (PHOTO #69-77 - 4/9/12)
25. SKETCH OF THE DRAGON AND THE LORD JESUS (PHOTO #78-88 - 4/9/12)
26. BOARD SKETCH OF SATAN AND SALVATION MAN (PHOTO #89-93 - 4/9/12)
27. THE DRAGON, THE WOMAN AND THE LORD JESUS (PHOTO #94-104 - 4/9/12)
28. BOARD SKETCH OF SATAN AND SALVATION MAN - (PHOTO #105-110 - 4/9/12)
29. THE ARTIST KEVIN E. DUCLAIRON AND ADAM AND EVE (PHOTO #111 - 4/9/12)
30. THE ARTIST KEVIN E. DUCLAIRON AND THE FAMILY (PHOTO #112 - 4/9/12)
31. THE ARTIST KEVIN E. DUCLAIRON AND NORMAL DISCOLORED RESTORED (PHOTO #113 - 4/9/12)
32. THE ARTIST KEVIN E. DUCLAIRON JEREMIAH THE PROPHET (PHOTO #114 - 4/9/12)
33. THE ARTIST KEVIN E. DUCLAIRON AND THE SAINTS (PHOTO #115 - 4/9/12)
34. THE ARTIST KEVIN E. DUCLAIRON AND JESUS PREACHING (PHOTO #116 - 4/9/12)
35. THE ARTIST KEVIN E. DUCLAIRON AND MODERN WOMEN (PHOTO #117 - 4/9/12)
36. THE ARTIST KEVIN E. DUCLAIRON AND NANUET GROUP HOME (PHOTO #118 - 4/9/12)
37. THE ARTIST KEVIN E. DUCLAIRON AND THE DRAGON, THE WOMAN AND THE LORD JESUS (PHOTO #119 - 4/9/12)
38. ART LAID OUT ON TABLES 1 (PHOTO #120 - 4/9/12)
39. ART LAID OUT ON TABLE 2 (PHOTO #121 - 4/9/12)
40. ART LAID OUT ON TABLE 3 (PHOTO #122 - 4/9/12)
41. ART LAID OUT ON TABLE 4 (PHOTO #123 - 4/9/12)
42. ART LAID OUT ON TABLE 5 (PHOTO #124 - 4/9/12)
43. ART LAID OUT ON TABLE 5 (PHOTO #125 - 4/9/12)
44. ART LAID OUT ON TABLE 6 (PHOTO #126 - 4/9/12)
45. ART LAID OUT ON TABLE 7 (PHOTO #127 - 4/9/12)
46. PAINTING THAT WAS LOST IN 2010 WITH ALJO TRAILER OF HEAD OF CRUCIFIED CHRIST, HOLY SPIRIT, & SAINT PRAYING (PHOTO #128 - 130 - 4/23/12)
47. GABRIELLE FRANKLIN CHILD ABUSER AND MAN RAPER (PHOTO #131-135 - 4/23/12)
48. THE MAN (PHOTO #136-143 - 8/25/12)
49. THE ARTIST AND GABRIELLE FRANKLIN (PHOTO #144 - 8/25/12)
50. JESUS (PHOTO #145 - 8/25/12)
51. GABRIELLE'S CUT (PHOTO #146 - 4/13/12)
52. INK BLOTT OF GABRIELLE'S HEAD (PHOTO 147-150 - 4/13/12)
53. STATUE ART IN SEATTLE (PHOTO #151-152 - 8/25/12)
54. GABRIELLE'S CUT (PHOTO #153-154 - 8/25/12)
55. THE ARTIST AND THE CHURCH (PHOTO #155-162 - 8/25/12)
56. FUTURE CAMPUS (PHOTO 163-165 - 8/25/12)
57. DUCLAIRON NATIONAL PARK (PHOTO #166-174 - 8/25/12)
58. HER FACE (PHOTO #175-180 - 8/25/12)
59. DUCLAIRON NATIONAL PARK (PHOTO #181-189 - 4/8/12)
60. MRS. DUCLAIRON (PHOTO #190-205 - 8/25/12)
61. THE PREACHER (PHOTO #206 - 214 - 8/25/12)
62. FUTURE CAMPUS (PHOTO #215 - 220 - 8/25/12)
63. JESUS FEEDING 5000 (PHOTO #221-233 - 8/25/12)
64. MEET THE ARTIST KEVIN ERNST DUCLAIRON (PHOTO #234-238 - 8/25/12)
65. FRANKLINS JUDGED FOR RAPING KEVIN ERNST DUCLAIRON - GUY FRANKLIN, GABRIELLE FRANKLIN AND GUILA FRANKLIN - (PHOTO #239-247 - 8/26/12)
66. THE BEGINNING AND THE SETTING (PHOTO #248-282 - 8/28/12)
67. THE MISSIONARY (PHOTO #283-#290 - 5/29/14)
68. CHILDLESS MOTHER (PHOTO #291 - #296 - 5/29/14)

___________________________JULY 8TH, 2013 COPYRIGHT OFFICE_________________________

DUCLAIRON'S BUILDING AND CARPENTRY MINISTRY - NOV. 10, 2013/2015


Teaching Ministry
This ministry began years ago, but I recently built this pulpit-podium to do some in house teaching ministry. Most of the teaching will be done in front of the laptop camera of the new 2000 Notebook I just purchased. As you can see on the left that is my studio where I live and there isn't really any room to do any thing in there accept live. But I am using the kitchen, and a writing board behind me to do the teaching in front of the camera on my computer. I would have preferred a pulpit ministry in a real church building, with a congregation before me, but God has not yet willed it for me to minister to the church in that setting, so I have to do with what I have until then.

2013

1) 11/10/13 - PULPIT COMPLETED.

2014
1) 1/17/14 - STAGE COMPLETED.

2) 5/29/14 - CROSS COMPLETED.

2015

1) Will God permit me to build a house for him?

---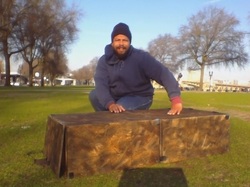 DUCLAIRON'S BUILDING CARPENTRY MINISTRY - MAKING A STAGE - JAN. 17, 2014
KEVIN ERNST DUCLAIRON - BUILDER AND CARPENTER - EPH. 2:10
"10 For we are His workmanship, created in Christ Jesus for good works, which God prepared beforehand so that we would walk in them."

INTRODUCTION
The goal of our carpentry ministry today is to complete a two part stage. Please see photos and video.

I. THE EQUIPMENT
1. Hammer
2. Flat head Screw Driver
3. Cross Slot Philips Screw Driver

II. MATERIAL
1. Wood - 4X8 PLY WOOD
2. 2 box of nails
3. 3 packs of hinges
4. a lock
5. can of black paint.
6. 16 metal hinges

III. THE BUILDING
Completing the stage was not that easy. The wood was not properly cut, because my dimensions were off.
It is a two part stage that looks like to suitcases being carried by a handle, connected in the back.

IV. PURPOSE OF STAGE DESIGN
It is three fold.
1) To hold me up when I am preaching.
2) To carry equipment (i.e. bibles, flyers, music stand, etc...)
3) Portability

V. THE PAINTING
It was difficult to paint because the wind was blowing, I used a black spray paint to give it a dungy look, since I'm going to be putting lots of dirt and mud on the stage.

VI. IT IS FINISHED
99% of the hammering is done, some more hinges need to be purchased, and new locking mechanism.

VII. STAGED
I can stand on it without it falling through. It still needs work.

VIII. COST
The $15.00 from the preaching of 1/15/14 LET'S TALK ABOUT GOD - GEN. 3:1-7 - was used to complete material purchases. So be sure to invest in this ministry and God will use your tithing to do great things.

$30.00 for the stage that you are looking at.
$20.00 for more hinges and locking mechanism to make sure it is steady.

PLEASE WATCH VIDEO BELOW


---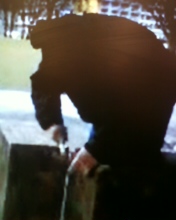 DUCLAIRON'S CARPENTRY AND BUILDERS MINISTRY - STAGE RESTORATION AND RESTORATION - JAN. 28, 2014
KEVIN ERNST DUCLAIRON - CARPENTER AND BUILDER

A. COST: $10.03

B. REPARATION AND RESTORATION:

1. BACK PANEL ON ONE OF THE BOXES WAS LOOSE DUE TO NOT HAVING HINGES. HINGES WERE PURCHASED AND PANEL WAS REPAIRED WITH HINGES TO KEEP THE BOX FROM COMING LOOSE.

2. 9 MINIATURE PILLARS WERE ADDED IN THE SECOND BOX TO ENABLE ME TO STAND ON IT WITHOUT IT CRUSHING THROUGH.

3. IT TOOK AN HOUR TO COMPLETE.

WATCH VIDEO BELOW

---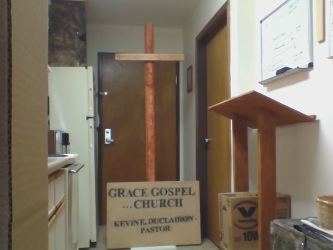 DUCLAIRON'S CARPENTRY AND BUILDERS MINISTRY- THE SIGN AND THE CROSS - MAY 29, 2014

WHY A SIGN AND A CROSS?
The sign tells who we are, and the cross tells that we conquered death through Jesus Christ. In a studio apartment it's hard to advertise for a church meeting but it will do for now. As far as the cross is concerned, I think Jesus wants us to carry our cross daily. Having the cross in the apartment and in my office reminds me that we are dead to sin and alive in Christ Jesus. On that Roman cross God sent his son to die for the sins of all humanity, so that, they could be right with God. The cross took away the beauty of our Lord's life, legacy and ministry. But his resurrection restored it all back to the apostles, disciples, and the church.

---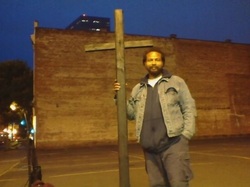 DUCLAIRON'S BUILDING MINISTRY PAINTING THE CROSS - JUNE 12, 2014
KEVIN ERNST DUCLAIRON - PAINTER AND PREACHER

WATCH VIDEO THE GOSPEL IS EXPLAINED FROM GENESIS TO MATTHEW AND FROM MATTHEW TO US.

1. WHY THE FALL?
2. WHOSE FAULT IT WAS THAT MAN FELL.
3. WHY JESUS HAD TO DIE ON A CROSS.
4. THE SIGNIFICANCE OF THE CROSS.
5. GOD'S FIRST TEST OF FAITH.
6. GOD'S SECOND TEST OF FAITH.
7. DO YOU BELIEVE IN THE CRUCIFIXION, DEATH AND RESURRECTION?
8. WHAT IS THE CONSEQUENCE OF THE FIRST ADAMS ERROR?
9. WHAT IS THE CONSEQUENCE OF THE SECOND ADAMS CORRECTION IF MAN REJECTS IT?
10. WHAT IS DEATH?
11. WHAT IS THE LAKE OF FIRE?
12. WHAT DO YOU BELIEVE?

---
1. HAPPY THANKSGIVING - CATCHING UP WITH KEVIN DUCLAIRON - NOVEMBER 20, 2013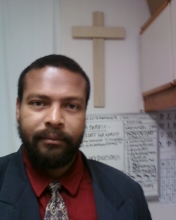 I. INTRODUCTION

WHAT HAS THE LORD'S N.T. CHURCH LEADERS BECOME IN THE 21ST CENTURY (2 COR. 12:11-13)

1. LIFE - WHO I AM TODAY

a. Family/Marriage/Children (Prov. 18:22)

b. Education - Seminary (2 Tim. 2:15)

c. Homelessness - Ended in July 2013 (1 cor. 4:10-13)

d. Health - 24hrs (1 Cor. 9:17)

e. Fellowship - (Heb. 10:24-25)

2. LEADERSHIP - CALLING (ACTS 9:15-16; JOHN 21:15-19; 2 TIM. 3:1)

a. Ordination - Online (Acts 23:1-3)

b. Standing - God and I, no one else (2 Tim. 1:15)

c. Opposition - Franklin, MacArthur and LGBT

3. MINISTRY - SERVICE TO GOD

a. Preaching - Making Disciples (2 Tim. 4:1-2)

b. Books - "Spiritual Convictions..." (Rom. 14:22)

c. Church Planting - Gathering the Saints (Acts 2:42-43)

d. Website Hosting - churchatseattleduclairon.com in forming the church

II. FINAL THOUGHTS

a. Prayer and Scripture (1 John 2:1-29)

b. Communion - Bread and the cup ( Luke 22:17-20)

c. Encouragement - Romans Road (The Gospel of God)

1) The Problem and Punishment of Man (Romans 1:18-32)

2) All are sinners (Romans 3:23)

3) Don't obey sin or become its slave (Romans 6:12-16)

4) The wages of sin is death (Romans 6:23)

5) Believe and be saved (Romans 10:9-10)

6) God's Wrath and Revenge (Romans 12:19)

7) Church live for the Lord (Romans 14:7-8)

8) Scripture written for our instruction (Romans 15:4)

PLEASE WATCH VIDEO 1 AT THE BOTTOM, VIDEO 2 HAS NO SOUND.


---
2. HATEFUL THANKSGIVING - STANDING UP AGAINST KEVIN DUCLAIRON - NOV. 21, 2013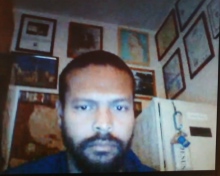 Hateful Thanksgiving Standing Up Against Kevin Duclairon Video Recording 2 Nov.21, 2013

This video was produced as a result of the actions taken against me yesterday after producing the video Happy Thanksgiving Catching Up with Kevin Duclairon. While doing the video MacArthur and LGBT or the Klan had turn off the sound through HP. They have control over the components of the computer. So I spoke for one hour to a dead microphone. They came out against me at 24 hours Gym, and threatened me through Melinda MacArthur. She warned me that I needed to go across the river to Taboo, to meet with LGBT members for sex. They did not show up, so I left and called 911 explaining to them that I was under threat, and that the LGBT community Had sabotaged my video, asked me to meet them at Taboo, but did not show up. This usually leads to them trespassing into my apartment, sexually assaulting me, piercing me with a needle, or cutting me. When I got home my apartment was gassed, I fell asleep and was pierced with a needle under my right foot in the heel, they gave me a pain shot on my left foot on top of the big toe. I was sexually assaulted and my genital was used. This is what Gabrielle Franklin, Guy Franklin, Mark Rodriguez, and members of LGBT are doing to me at West Shore Apartment for slavery, negro submission, White Supremacy under the KKK'S (aka - John F. MacArthur) authority. So it is me against all of them including the Portland Police, false Christian leaders, false churches, LGBT members from Nanuet N.Y. Nanuet Group Home, Sun Valley California Grace Community Church, and either my mother or LGBT or Klans women representing my mother Merianne and Barak's Administration. I cannot apologize for my nasty words in this video, these people have molested me and taken advantage of me for over 30 years, there is no justice for the black man in America, both home born and foreign are still treated like shit, like niggers, and slaves. That's how these English Settlers see the race outside of the Christian Faith and that is how it will remain. As I am typing and uploading this video on the 3rd floor computer lobby some of the tenants representing Gabrielle Franklin from the LGBT Community have come out indirectly against me, they've insulted me several times. They are looking for a reason to force me to leave and bring accusation against me. They are the volunteers in this apartment complex, and they are in every apartment complex where I try to live. They're the volunteer staff who have my the keys to my apartment and who may be opening the door to my apartment and abusing me with the needle and other hits. In the LGBT Community the one black woman represents Sandra Duclairon, the other a white woman named Sonya represents Gabrielle Franklin. When I called 911 after the trespassing incident they refused to answer their phone line, because they also are part of the opposition against me. LGBT (Lesbian, Gay, Bisexual, and Tran sander) community seem to have taken over every apartment complex in the West coast, representing members of peoples families to control their lives and force them to live as homosexuals under their forced authority by abusing them to submission.

NOTE - They are daily sabotaging this new PC Notebook 2000 from HP. Their controlling it from the main data base were HP would have control of the inside of the computer. So far they've given me trouble with:

a. Using the printer
b. Volume
c. Magnifying icons on the main page
d. Playing downloaded movies
e. Playing Movies made from their movie maker
f. and they warned me that through Gabrielle's voice that they were going to crash the computer.

Why are they doing all of this? Because I am not LGBT (Lesbian, Gay, Bi-sexual and Transgender), they don't like it. Born Again Christians.

WATCH THE VIDEO BELOW

---
WHAT IS BIBLICAL LEADERSHIP AND MINISTRY?
2015 - 2017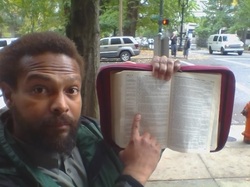 Friday, October 23, 2015

Check out the picture here, notice that I am pointing to the New American Standard Bible. I just got done preaching a message on the end times using Mark 14:53-65, Matthew 24:1-31 and Acts 17:30-31. All bible verses that teaches the church and Israel what God has to say to us. Yesterday, I stayed in my apartment and lamented on how I cannot get into contact with God. I pray, I preach, I serve God but never get a response either from God or from those who hear me preaching repentance and salvation. I wondered, did this make me a false prophet? a false preacher? a false leaders in the church? What could this possibly mean? I understand that I stand in the gap between God and man. I pray to God and preach to man and hear nothing from either side, what do I do? I am the enemy or regarded by unbelieving/so call believing Americans as the enemy. But I am not. I am a bible believing Christian who is taking God at his word (is that OK with you Americans?). As I have been told and taught for the last 30 years, the bible is the inspired Word of God from 2 Timothy 3:16-17. So then, God has spoken, recorded it and doesn't want to converse, but he wants us to read his written word which he gave us through patriarchs, prophets, kings, messiah, apostles, preachers and apply the Scriptures as if they were just written to us today. The bible says, Jesus Christ is the same yesterday, today and forever. So then, the principles of scripture that applied to Moses and the Jews who came out of Egypt, and the writings of David the King, and that of Isaiah in the Old Testament, and the writings of the New Testament authors are still applicable to us today. If this is true then:
1) we are on a biblical time line that is being ignored by all outside of a relationship with God, and by some that call themselves the church. This time line tells us exactly who, when, where and what is to come. Of course there are not specific dates, and names, yet we have been warned and well informed in advance.
2) We must obey the instructions given.
3) God expects us to believe him and act upon what we read and believe.
4) God has taken a vow of silence, but it does not mean that he does not hear, see, understand, uninterested or has stopped recording our trespasses against us (Rev. 20:11-15). If we are faithful with a little that he entrusts to us, will he not entrust to us the greater when we prove to be faithful?
5) God will hold us accountable to his Word.
6) Each of us are responsible for our own faith first (Romans 14:22), because this is what we will be held accountable for.
7) Those who do not believe his written Word have been judge already (John 3:16-18).
8) God created Hell for the Devil, his angels and sinners who resist and refuse to believe that he is speaking to every generation of man on earth through his written word (Matt. 25:41).
9) Just because God chooses not to speak audibly, it doesn't mean that he cannot communicate in other ways (observe Creation).
10) Believers beware that the bible warns us of sinners who doubt and cause believers to stumble in every form of sin to rob us of our faith. it's not our sexuality they want, or money, it's our confidence, our belief, our assurance that this book called the bible is God's way of conversing with us. Without it Israel and the church is dead.

Biblical Leadership is the act of the church (saved Jews and Gentiles) to believe that the Holy Spirit has charged them to act upon the scriptures that they read and believe, to carry out the work of the Lord Jesus Christ and engage in daily ministry (prayer, preaching, teaching, reading the bible, discipleship, baptism, studying scripture etc...) to accomplish the work of salvation, building the body of Christ, preparing the nations for his return to the glory of God (The Father, Son and Holy Spirit).

Biblical Leadership is Christian men leading themselves and others using scriptural reasoning and thinking while carrying out the written commandments of God.

Biblical Leadership is Christian men confronting sin, dealing with the issues that God has put in our lives to purge out sin and bring forth his Holiness. (NOV. 5, 2015).

Biblical Leadership is Christian men believing, receiving and acknowledging Jesus Christ as Lord, God, and Christ of their lives. (NOV. 15, 2015).

Biblical Leadership is Christian men rejecting the sin of the devil, the church, their family and from their own hearts to glorify God (NOV. 15, 2015).

Biblical Leadership is Christian men enduring hardship at all cost to accomplish God's will (DEC. 8, 2015).

Biblical Leadership is Christian men recognizing persecution against them for non-conformity, non-subjugation to unbelievers masking Christianity, non-acceptance of the sin of white supremacy over their lives and trusting in the person of Jesus Christ as their Lord, the blood of Christ as their pardon for being sinners and the salvation of Christ as their door of reconciliation with God, thus they need not live in fear of unbelieving man (gay man, Klansman, masters who desire to acquire them as their slaves) because they have been condemned by God to Hell.

2016

Biblical Leadership is Christian men believing the unbelievable when tested by God to believer other wise (October 18, 2016)
Biblical Leadership is Christian men trusting in Scripture when God chooses to be silent when he is needed most (2016).
Biblical Leadership is Christian men encouraging the church to be strong in times of suffering, persecution when their own lives are falling apart (2016).
Biblical Leadership is a group of Christian men gathering together to encourage and sharpen one another while they serve God in their own ministries (2016).

2017
Biblical Leadership is Christian men preaching the gospel to an empty and silent city when their is no response of them wanting to receive the gospel & be saved (Jan.1, 2017).
Biblical Leadership is Christian men continuing to serve God by faith yearly despite his lack of response to their prayers, success in ministry or church support (Jan. 1, 2017).
Biblical Leadership is Christian men trusting God for an uncertain future, knowing that he will provide to continue building his ministry as he promised - Phil. 4:19 (Jan.1, 2017).

---
The Church At Seattle - Walk With God Ministries Press Publishing Distribution - P.O. Box 3322, Portland, Oregon 97208
Copyright @ 2011, 2012, 2013, 2014, 2015, 2016, 2017